Over the past few years, Disney has dominated the big screens with live-action versions of our favorite classic tales—Beauty and the Beast, Alice In Wonderland, and The Jungle Book, to name a few.
Their latest cinematic venture is a brand new adaptation of Aladdin featuring an all-star cast. The most recent trailer for Aladdin dropped on Sunday and people are having some strong opinions about the genie.
Sunday night, an all-new trailer dropped for Disney's live-action 'Aladdin' coming this May.
"Your life begins now… Aladdin". Watch this special look at Disney's #Aladdin, in theaters May 24. pic.twitter.com/6kgsmxUtam

— Disney's Aladdin (@disneyaladdin) February 11, 2019
The trailer gave fans a first look at many of the story's iconic characters including the genie played by Will Smith.
And it wasn't long before Twitter began roasting the hell out of Smith's look.
1.
Will Smith genie is what appears in my room when I have sleep paralysis pic.twitter.com/NzMDOgvkkz

— Jenny Nicholson (@JennyENicholson) February 11, 2019
2.
"It's cause you be on that phone" pic.twitter.com/BdLh5Q8UVg

— Topshelf Tyson (@topshelftyson) February 11, 2019
3.
"you ain't never had a friend like me georgie" pic.twitter.com/WVj0xiox9F

— ????????????joe klein???????????? (@theJoeKlein) February 11, 2019
4.
Will Smith as Genie in Aladdin(2019) pic.twitter.com/ZVkfr4ViHD

— Parick McMillan (@PEMCMILL) February 11, 2019
5.
https://twitter.com/CaillouPettis/status/1094777489610629125
6.
https://twitter.com/jpbrammer/status/1094777884760293376
7.
— Becks (@BecksWelker) February 11, 2019
8.
i'll never sleep again and it's all will smith's fault #aladdin pic.twitter.com/wUL79ZchIG

— ???????????????????? (@QuinnKeaney) February 11, 2019
9.
Was down for that #Aladdin trailer the whole way thru til I saw blue Will Smith. pic.twitter.com/bSBf02ul2c

— Jv Joe (@JvJoeontheRadio) February 11, 2019
10.
How dare Will Smith play a genie and take away acting work from actual genies. pic.twitter.com/bJCGiwcYGc

— Bridget Phetasy (@BridgetPhetasy) February 11, 2019
You May Also Like:
— Ruin My Week (@RuinedWeek) February 11, 2019
11.
First look at Will Smith as the Genie in the up coming live action Aladdin pic.twitter.com/yFLxrVJXv2

— Xanny DeVito (@trevorstweetss) February 11, 2019
12.
https://twitter.com/kylebuchanan/status/1094792852985458689
13.
https://twitter.com/bradmiska/status/1094778279721140227
14.
The internet reacting to Will Smith's genie pic.twitter.com/gK6ginlrxQ

— Ryan Satin (@ryansatin) February 11, 2019
15.
Will Smith as the genie looks like what one of those kids from the 90's Fruit Gushers commercials would look like if they never found a cure for their fruit curse.

— Jhonen Vasquez (@JhonenV) February 11, 2019
16.
Why does Will Smith look like smurf centaur?! What kind of genie?!

— #OluwatoyinSalau (@holadamilola) February 11, 2019
17.
Oh my gooooooood!!!#Genie #WillSmith #Alladin #blue pic.twitter.com/txQvHM0RyJ

— Thomas Michael Duffy (@tduffy221) February 11, 2019
I wonder what the OG genie would have to say about all of this…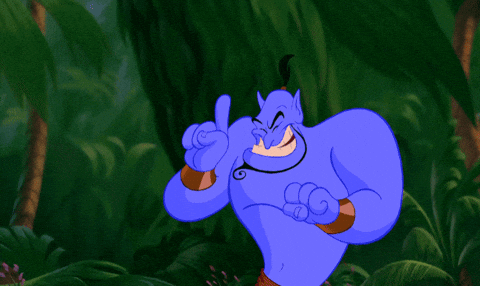 H/T Someecards