The 2019 Atlantic hurricane season is in full swing, and these photos of Tropical Storm Barry show it's shaping up to be the first major storm to hit the United States this year. Forecasters predict Barry may grow into a full-fledged hurricane before it makes landfall near Louisiana this weekend.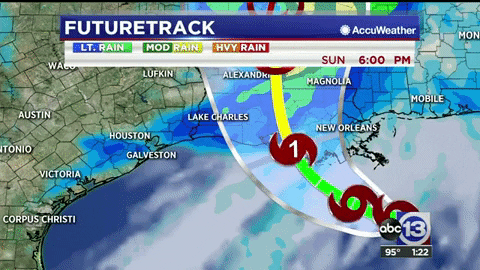 According to the National Weather Service, Tropical Storm Barry is currently developing over the Gulf of Mexico. As of press time, the storm is about 100 miles south-southeast of Louisiana and Mississippi, according to The National Hurricane Center. Right now, the storm includes winds of up to 40 mph, but the storm is expected to strengthen into a hurricane in the coming days.
Barry is projected to reach Louisiana Friday or Saturday, possibly as the first full-blown hurricane of 2019. The NHC is live-updating their forecasts, and are keeping residents up-to-date on Twitter.
There is a danger of life-threatening storm surge inundation along the coast of southern and southeastern Louisiana, where a Storm Surge Warning is now in effect https://t.co/TlYhzb6zDw #Barry @NHC_Surge pic.twitter.com/wpYiY66mcd

— National Hurricane Center (@NHC_Atlantic) July 11, 2019
Naturally, there are hurricane and storm surge warnings in effects for areas near the mouth of the Mississippi River. The NHC warns residents of those areas that Barry may bring "DANGEROUS STORM SURGE, HEAVY RAINS, AND WIND CONDITIONS." It's that storm surge that is most worrisome for the New Orleans area, which has dealt with heavy rain and flooding over the past week.
As CNN reports, the Mississippi River is 16 feet higher than normal right now, due to the recent rain. Now, the storm threatens to dump another 10 inches of rain onto the already-drenched city. The storm surge could breach the 20-foot barrier of the levees, and Louisiana has declared a statewide emergency.
"There three ways Louisiana floods: storm surge, high river, and rain. We're going to have all three." - @LouisianaGov

— Matt Houston (@MattCHouston) July 11, 2019
UPDATE: The NHC and Corps of Engineers now expect #Barry's rains and storm surge to flood the Mississippi River at New Orleans to a crest of 20 ft.

That's exactly the height of the river levees. It would be the river's highest level in New Orleans since the flood of 1927. pic.twitter.com/iKn0CWKfmy

— Eric Holthaus (@EricHolthaus) July 10, 2019
Local residents posted photos and videos of the flooding caused by Tropical Storm Barry ahead of the storm making landfall this weekend. The New Orleans Times-Picayune shared this video of residents using kayaks through a flooded street:
A lot of New Orleans was underwater this morning (and a lot of it still is). Some people broke out kayaks, others were forced to abandon cars in another episode of flooding.

How things happened this morning: https://t.co/alFEYwA81z

See full thread of updates below this tweet ⤵️ pic.twitter.com/3bcZkKlLuh

— NOLA.com (@NOLAnews) July 10, 2019
New Orleans alreading flooding in the Bywater and the Tropical Depression hasn't even hit pic.twitter.com/NTVfpXhL97

— Taylor McCrary (@T4McCrary) July 10, 2019
Just as a reminder, these Tropical Storm Barry photos have all been taken before landfall:
#BREAKING: Flash flood emergency issued for downtown New Orleans and surrounding suburbs. Between 5-7 inches of rain has fallen in the past 2 hours. This comes as Louisiana prepares for Invest 92L which is forecast to become Tropical Storm Berry. pic.twitter.com/buHIKDyMhv

— UA News (@UrgentAlertNews) July 10, 2019
ABC News shared this video of a man being rescued by kayak from his stranded car:
Thunderstorms and flash flooding hit New Orleans, submerging cars and buildings, forcing some to close, as authorities rescued a driver and warned of possible tornadoes. Officials asked residents to stay off the roads until the end of the storm. https://t.co/whEE6cK009 pic.twitter.com/UtbjLa2b3g

— ABC News (@ABC) July 10, 2019
Floodwaters are already creeping into buildings in the area:
Storm likely to churn into hurricane, looms on U.S. Gulf coast https://t.co/091gJxsgUZ pic.twitter.com/WyfW37YPq3

— Reuters Top News (@Reuters) July 11, 2019
And people have begun to make their way to safety:
New Orleans battered by flooding rains ahead of possible hurricane https://t.co/yGz1WDjqYT pic.twitter.com/cNHrQ7kKlB

— New York Post (@nypost) July 11, 2019