A man named Nelson Gibson has been receiving dialysis treatment at Fresenius Kidney Care in Port St. Lucie, Florida, for a while. Gibson is a Donald Trump supporter, and his family tried to support him by providing him with Trump totems as he underwent his treatment, The Washington Post reports.
First, he got an 8-by-10-inch picture of his hero's grinning, orange face. Next was a Photoshop job from his son, Eric Gibson, which featured Gibson giving holding a picture of Trump while standing next to Trump. I must admit that this is a pretty funny step up for bedside totems. But the care center decided Gibson and his family went too far when he showed up for treatment last week with a life-size cut out of the president.
Gibson says he was stopped by a social worker in the lobby, saying they told him, "This is not a Trump rally."
"They told me it was too much and it wasn't a rally," Gibson told WPBF, via AP News. "It was supposed to be an issue of safety infectious disease which made no sense," his son Eric said after contacting facility officials.
A true statement, but one Gibson is now saying points to discrimination against his political beliefs. So he is refusing to return to dialysis care until the cut out is allowed to oversee the procedure.
This is a pretty dangerous choice. While Gibson says he will go to the hospital if he experiences any emergency symptoms, but he has been warned that missing dialysis treatments can be life-threatening. As of his conversation with the Post, Gibson had missed three. His family spent that free time trying to drum up news media attention, accusing the center of "censorship" and saying they feel singled out "since the center typically encourages patients to bring emotional support items."
The chief medical officer for Fresenius Medical Care North America, Robert Kossmann, said in a statement that the cut out was rejected from the premises because it could get in the way of medical workers and there are prohibitions against items that could cause infection control issues.
"We strongly support the ability of all our patients to express their views, including bringing personal items into our clinics that provide comfort," said Kossman. "At the same time, we must maintain the safety and quality standards required within our clinics."
It's weird that Gibson is now insisting the clinic is anti-Trump, because in another statement his son said that the staff adored his previous mini-cutout, that fit reasonably on a table.
"The staff at the facility, they loved it," Eric Gibson told The Post. "They thought it was the best thing since sliced bread. They were taking pictures of it; they just loved the uniqueness."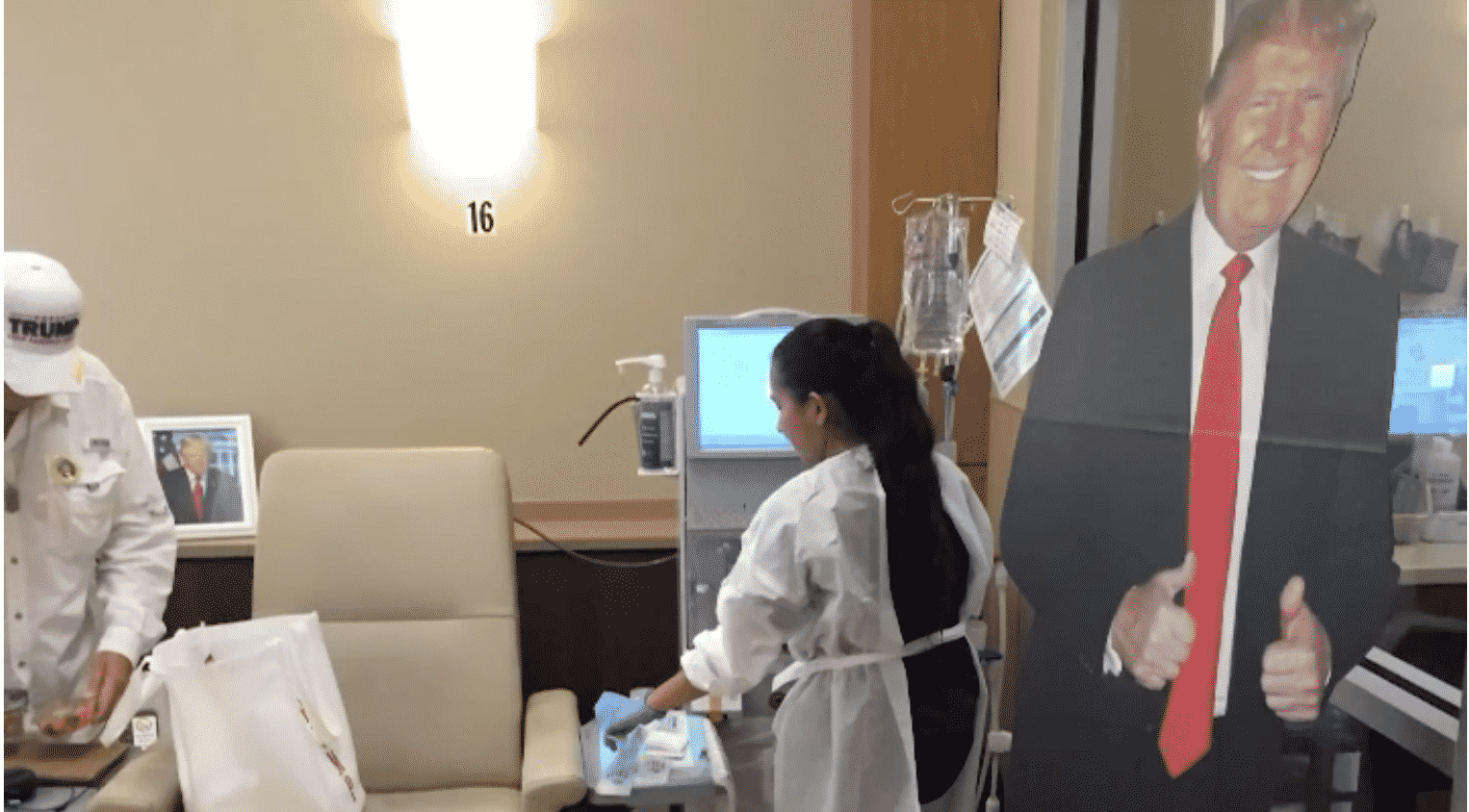 Gibson the elder also wore a "shirt embroidered with Trump's name" and "custom shoes bearing the president's face" during treatment, so he was clearly permitted to express himself until he brought a giant cardboard wall of Trump into the center.
Though they've been invited back (for some reason), the family won't return to Fresenius without a guarantee they can bring Trump, too. They also don't want to try other places, because Fresenius is the best. Gibson told reporters that he is hoping the president takes note of what's going on down in Florida. It's sort of like a hunger strike for political reasons, but striking against kidney health. If Trump is interested in his voting block, he should go down there and shake some hands.